Since moving to France in 2000, I have written extensively about the French lifestyle, especially those aspects of French culture and daily life that promote well-being on many levels. The articles that have garnered most interest include those about how the French eat, whether adults or children. More specifically, the popular posts are about what French women eat in a day.
When you look around a crowd in France—whether you are in a large city or the countryside—you are unlikely to see rampant obesity or even more than a few mildly overweight people. Nor are you likely to see a majority of men or women with ripped muscles, the toned arms of a disciplined athlete, or chiseled bodies.
Why? Because for the French, moderation and pleasure are the mantras of choice. The French navigate through their world renowned cuisine by fully enjoying the delicious and easily accessible food … but only some of the time, and in relatively small portions.
In summary, deprivation, negative feelings toward food, cutting out entire food groups, and eating factory-made products are not the norm.
Check out "The 5 most important French healthy eating habits".
French women do fitness differently
Most French women don't go to the gym to get ripped; they go because they know it's healthy, they've found an activity they enjoy, and they know they will feel better afterward (and look better in their skinny jeans). Moreover, they are unlikely to go five days a week for a 5 am workout, preferring instead once or twice a week later in the morning or day (you would be hard pressed to find a gym open at 5 am anyways).
Here in France, you're more likely to encounter women clocking in their "fitness" by walking during the day, choosing the stairs or a family stroll on the weekends.
So, if no food is off limits for most French women (including full-fat dairy, alcohol, sweets, and breads of all kinds) and they don't do "boot camp" type of workouts on the whole, then how is it that they keep their weight and wellbeing in check? More specifically, what do French women eat in a day?
To find out, I asked a handful of French friends to photograph everything they ate and drank on an average weekday. Along with the photos of what French women eat in a day, my friends summarized their food and wellbeing habits. In addition, you can also read my post about The 5 most important French eating habits for even more inspiration.
Leonor: What I eat in a day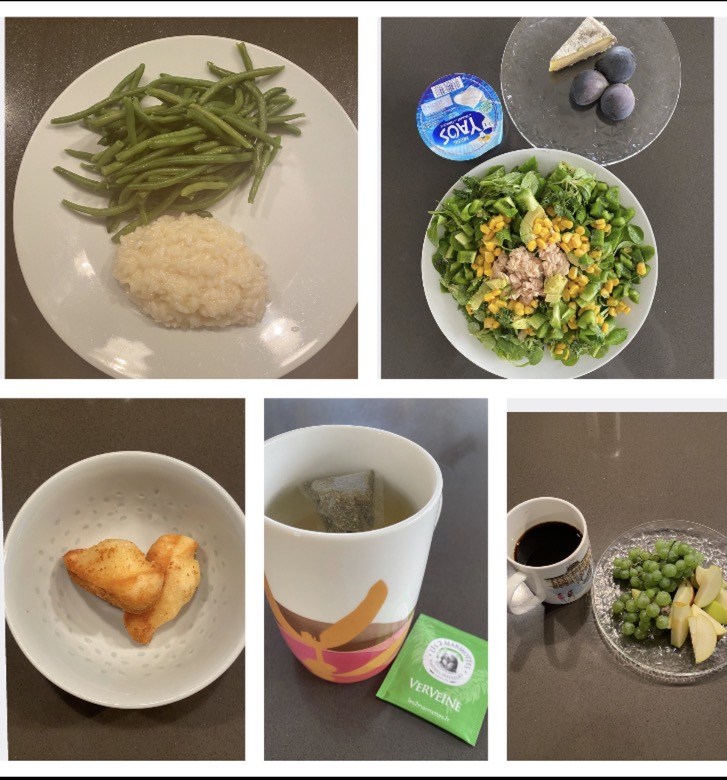 Breakfast 7 am
Fruit, coffee.
Lunch 12:30 pm
Large salad, fruit, cheese, greek yogurt.
Salad has mache, tuna, seeds, corn, green peppers, avocado, parsley.
Snack 5 pm
Two madeleines, herbal tea.
Dinner 7:30 pm
Risotto, green beans.
Leonor's wellbeing habits
No alcohol during the week, wine or champagne if going to a dinner party or restaurant.
Desserts on the weekends, or special occasions.
Bread occasionally.
Exercise in a week: walking every day, and at least two or three times a week another sport including tennis, hiking, or swimming. Moreover, in the winter, skiing or snowshoeing on the weekends.
Vegetables every day, meat occasionally.
Always eat fruits in season.
If dinner is late, then will have a small snack between lunch and dinner.
After dinner, herbal tea or decaf coffee.
Catherine: What I eat in a day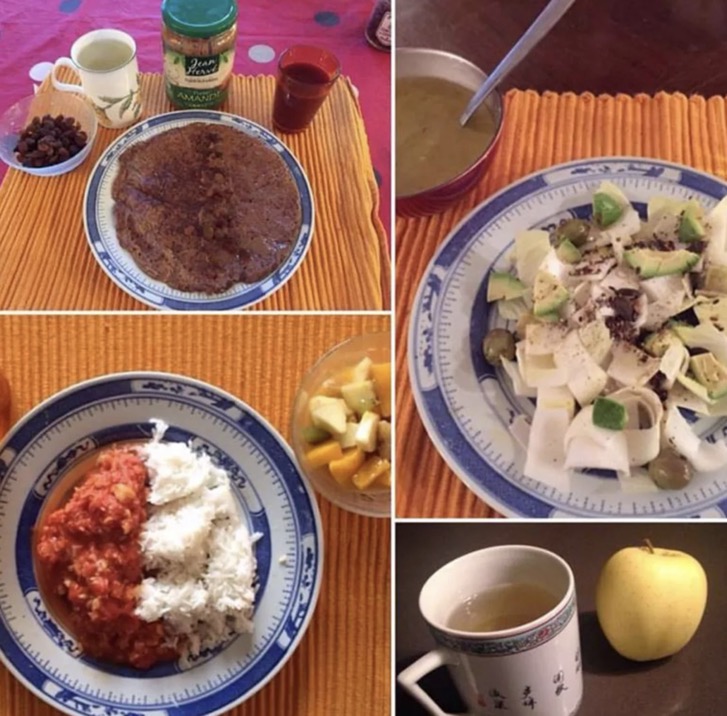 Breakfast
Homemade buckwheat crepe with almond butter, raisins, and a cup of organic vegetable juice.
Lunch
Fish cooked with tomatoes, onions, ginger, and pepper; basmati rice; fruit salad.
Snack at 5 p.m.
Apple with herbal tea.
Dinner at 8 p.m.
Homemade veggie soup (carrot, potato, leek, zucchini) and salad of endives, half avocado, olives, sprinkled with pumpkin and flax seeds.
Cathy's wellbeing habits
If she wants a sweet ending to dinner she has a few squares of dark chocolate (80 percent).
Cheese is normally not on her daily menu but when she has some, it's usually goat cheese.
Cathy also drinks up to 1.5 liters of herbal tea and water a day.
For exercise, she does Pilates once a week and at least two workouts on the weekend; hiking, cycling, skiing or snowshoeing, depending on the season.
Work takes her to restaurants often, so when she eats at home she focuses on eating lots of vegetables.
Delphine: What I eat in a day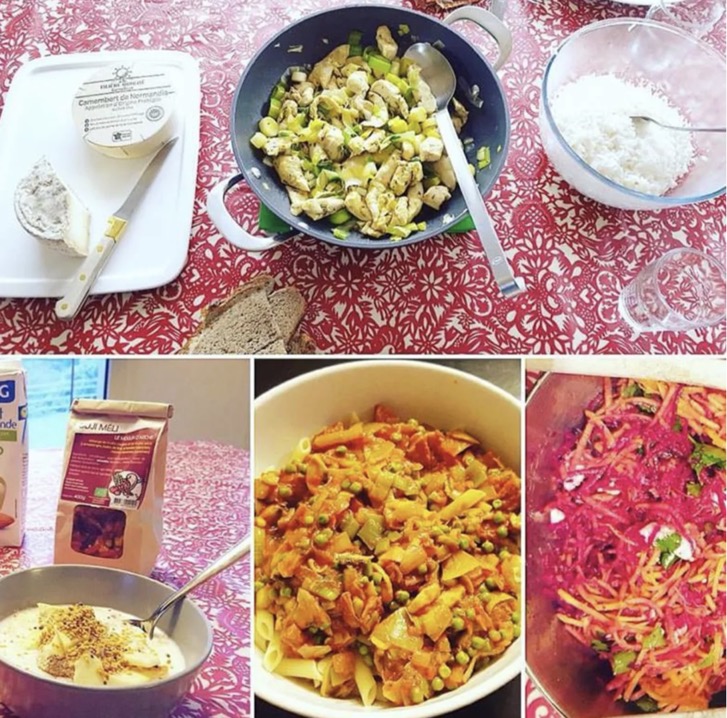 Breakfast
Mixed cereal with almond milk, almonds, walnuts, goji berries, and fresh pear, along with herbal tea.
Lunch
Chicken with leeks, rice, cheese, and bread.
Dinner
Pasta dish with peas, onions, and peppers, and a salad with beets, carrots, and vinaigrette.
Delphine's wellbeing habits
Throughout the day Delphine drinks water and herbal teas.
On the weekend she may have up to two glasses of wine.
She stays away from too much sugar and dairy products.
She eats a lot of lentils, chickpeas, quinoa, and foods with omega-3s.
When she overdoes it at a dinner party, the next day she drinks a lot of bouillon broth.
Her weekly exercise includes Pilates and lower-body toning.
Vanina: What I eat in a day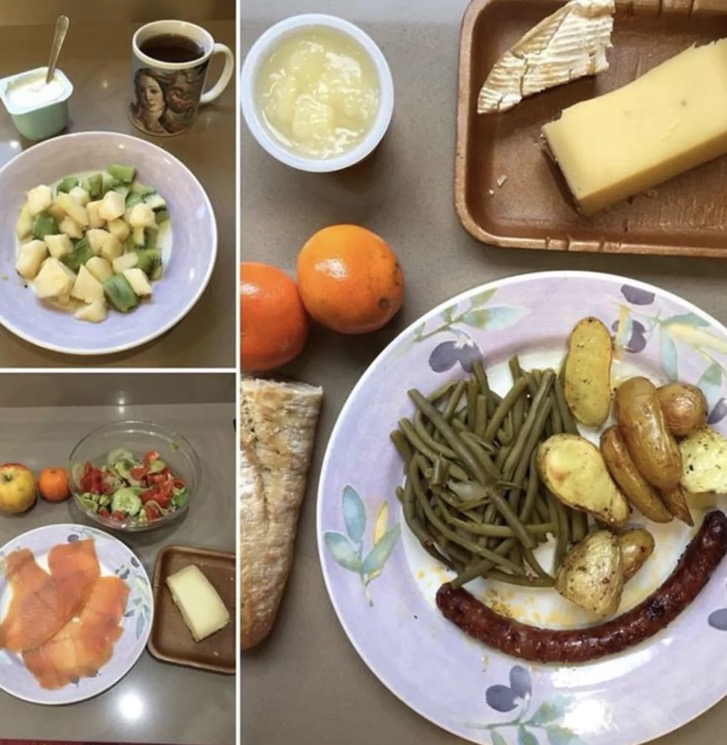 Breakfast
Large bowl of fresh fruit and yogurt with tea.
Lunch
Salmon with red pepper, cucumber, and avocado salad, followed by cheese and two pieces of fruit.
Dinner
Sausage, green beans, potatoes, cheese, bread, fruit, and applesauce.
Vanina's wellbeing habits
Vanina tries to eat light a few nights a week (a bit less quantity, lighter fare) to balance out when she eats at restaurants or larger meals.
In addition to her eating habits, her exercise in a week includes walking everywhere, Pilates, tap dancing, and tennis. She skis every winter and golfs a few times a month.
Catherine: What I eat in a day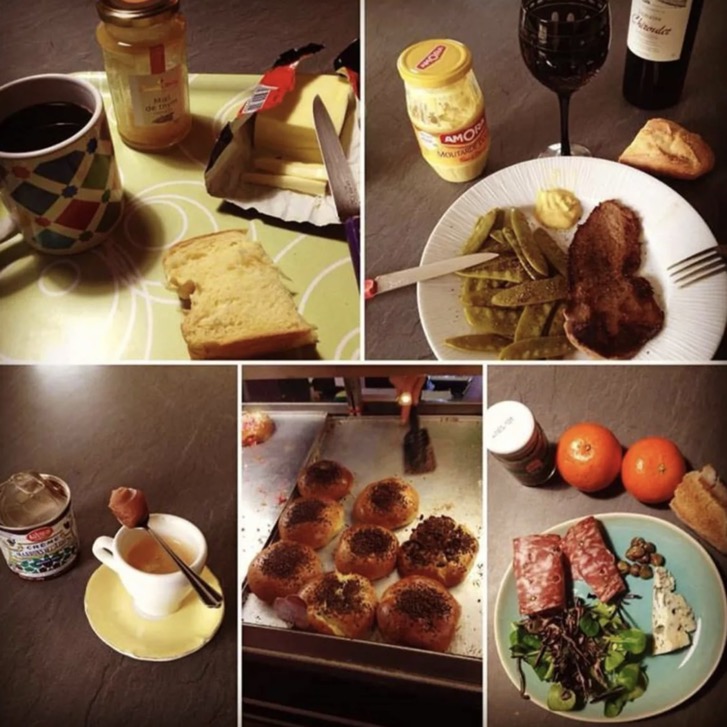 Breakfast
Pretty typical French breakfast of brioche, butter, honey, and coffee.
Lunch
Steak and green beans. Dessert is one spoonful of chestnut "cream" with coffee.
Snack
Chocolate brioche.
Dinner
This type of light meal is often served in France: a bit of charcuterie, capers, blue cheese, bread, and fruit.
Catherine's wellbeing habits
Eats until she is satisfied, never more.
Never has seconds (unless she is a guest).
For dessert, she has either cheese or a sweet—but not both.
Always includes carbs in her meals.
She eats moderately at breakfast, makes lunch her main meal, and has a light dinner.
Depending on what she eats at lunch, she sometimes skips her afternoon snack.
Every day she has a teaspoon of honey, one glass of wine, and bread.
On weekend she enjoys a croissant or pain au chocolat.
At lunch, she makes sure to include lots of vegetables.
If you are inspired by my French friends to make some positive changes or additions to your wellbeing routines, please sign up for my newsletter and I will send you some helpful tips, trends and links to keep you informed and motivated!